Our adult small group studies are a way to connect at a personal level through the study of the Word, prayer, and fellowship. We strive to build a culture of discipleship and hospitality where members learn to share life together.
---
Sunday School
Sundays 9:00–10:00 am
Inductive Bible studies range in size from 20-50 people. Some classes meet for 17-32 weeks and then rotate to a new class where they study a different book of the Bible with new teachers and new people. Some classes are ongoing, studying different books of the Bible with the same teacher and people.
Equipping Matters
Wednesdays 6:30–7:30 pm
Topical classes help us think and live with a biblical, Christian worldview. Class topics include: systematic theology, evangelism, the gospel and work, marriage, parenting, biblical counseling, church history, and more.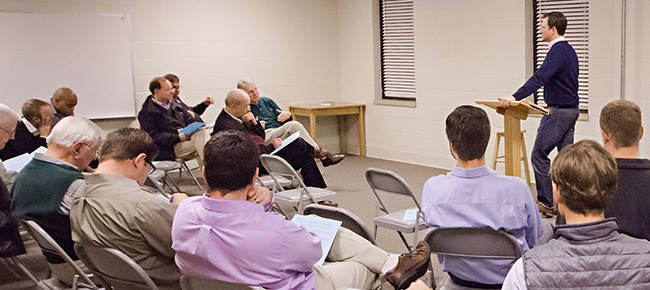 Covenant Groups
Small groups for members meet in one another's homes throughout the city and at different times throughout the week. Covenant Groups are one of the ways to build meaningful, redemptive relationships with other brothers and sisters in Christ. They intended to foster intentional, spiritual conversation, accountability, and prayer. And they often enjoy some great food and laughter! Read our Covenant Group Study Guide for more information.
Women's Ministry
Our women's ministry provides another opportunity for women of all ages to build meaningful, redemptive relationships with other sisters in Christ and for them to use their gifts to serve the congregation. The women of MVBC meet regularly for Bible study, discipleship, and prayer. They also have a ministry of hospitality through wedding and baby showers, meals for families in need, and church-wide events. Please contact us for more information about being involved.