Wednesday Evening Services
Fellowship Dinner (August–May)
5:00–6:20 pm
We invite you to join us in the fellowship hall for dinner. No reservations needed and first-time guests eat free. There are no Wednesday dinner in June and July.
First-time guests and children ages 3 and under = Free
Kid's Meal (ages 4-10) = $6
Adult Meal (ages 11 and older) = $8
Salad Bar Only = $6
Family Maximum – $25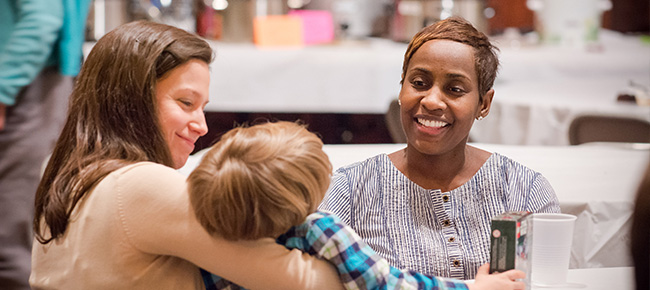 Equipping Matters (Adult Classes)
6:30–7:30 pm
Topical studies that prepare us to think and live with a biblical Christian worldview. Class topics include: systematic theology, evangelism, gospel and work, marriage, parenting, biblical counseling, church history, and more. Learn about the classes currently being offered.
Equipping Kids (Birth-Elementary)
6:30–7:30 pm
Equipping Kids is our time of Bible study, singing, and activities for children. We use a variety of curricula. Classes are located downstairs in the preschool and elementary halls. Learn more about family ministries.
Equipping Students (Middle and High School Students)
6:30–7:30 pm
Youth gather for fellowship and inductive Bible study. Our desire is to see the next generation instilled with a love for the Word and Christ. Youth meet in the West Hall downstairs. They are also welcome to attend an adult Equipping Matters class.
Summer Inductive Bible Study (All)
6:00–7:00 pm
Children, youth, and adults alike gather on Wednesdays for June–July for an inductive Bible study led by an elder. All welcome to attend and engage in these interactive studies.