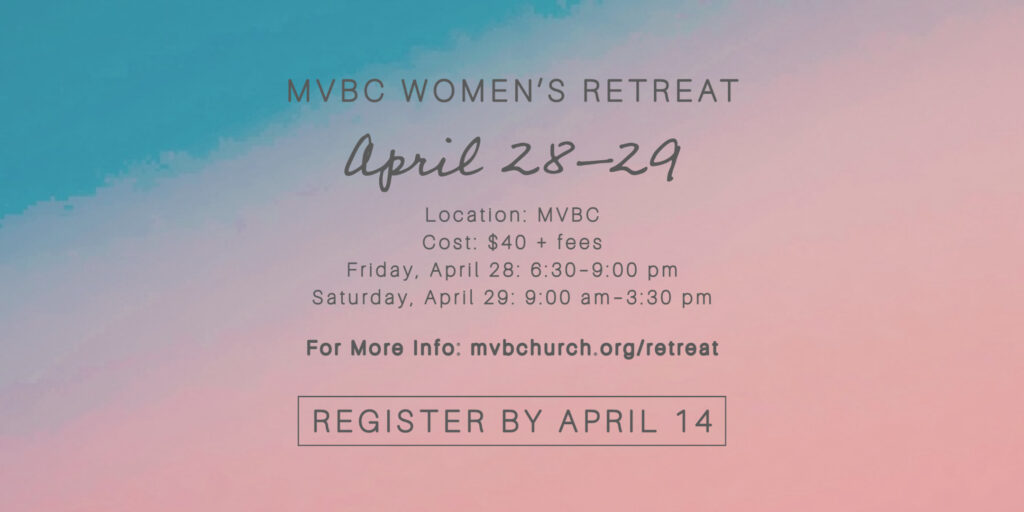 The Women's Retreat will be held April 28–29 at Mount Vernon Baptist Church.
This in-house retreat is designed to be a time where the ladies of Mount Vernon intentionally slow down and get to know one another better as we take a few days to hear focused teaching from God's word, sing, pray, fellowship, and have some fun together.
Our topic for this year's retreat is intentional living. Carrie Russell, pastor's wife and mom of four, will help us think deeply about God's sovereignty and how to discern his will for our lives.
Cost
The retreat cost is $40 for two days (which includes a book, dessert Friday, and breakfast and lunch on Saturday). This event is open to all women and high school girls. No children, please. Registration closes on April 14, so register today!
Abbreviated Schedule
For those unable to attend Friday night, there will be a pro-rated price of $35. We understand that different people have different obligations and may have to show up later than 6:30 PM on Friday. So please come when you can. If you have any questions, please get in touch with Alex Camp at alexcamp19@gmail.com.